WINNERS
Dried Flower arrangement
Honourable Mention Ms. Agnes Meeker(Driftwood)
Flowering Potted Plants
1st place Mrs Rose Mannix Simon,( Desert Rose)
2nd place, Mrs. Dawn King, (Bougainvillea)
3 rd place Heather Mannix(Shamrock)
Flower arrangements
1st Place Mrs. Eloise Robbins
2nd place Mr. Monty Lewis
3rd Place Ms. Joyce O'Donaghue
Potted Plants, Foliage
1st Place Barbara Japal
(Alternanthera)
2nd place Mr. Monty Lewis
(Alphina)
3rd Place Heather Mannix (Aglanomina)
Succulents
1st Place Mrs. Marcia English
(Mixed)
2nd Place Ms. Evelyn Jacobs
(Succulent var.)
3rd Place Mrs. Rose Simon
(Crown of thorns)
Ferns
1st   Place Marcia English (Hare's Foot)
2nd Place
Ms. Helen Abbott (Maiden Hair)
Cut Flowers
1st Place for Mrs. Vanessa Ravanello( Frangipani)
2nd place Mrs. Eloise Robbins ( Ginger Lily)
3rd Place Mrs. Evelyn Jacobs(Desert Rose)
Orchids
1st Place Ms. Simone Sanguinette Hadeed (Phalaenopsis)
2nd Place Ms. Sherree Hanelder
( Angel Hair)
3rd Place Ms. Sherree (Cotton Candy)
Best in Show, Marcia English for Fairy Garden( Mixed Succulents)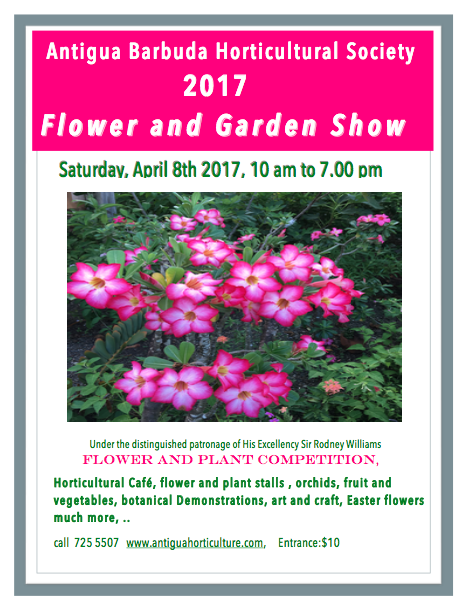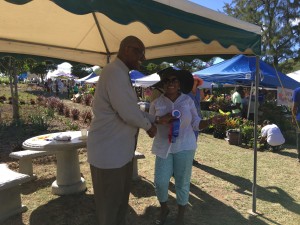 Our Best in show winner Mrs. Marcia English for her mixed Succulents display. Thank you to our Patron His Excellency our GG Sir Rodney Williams.
Thank you all to our hard working members and supporters  and all who came to make this a most fun and successful day.
CompEntry Form12016flower garden show
2016 features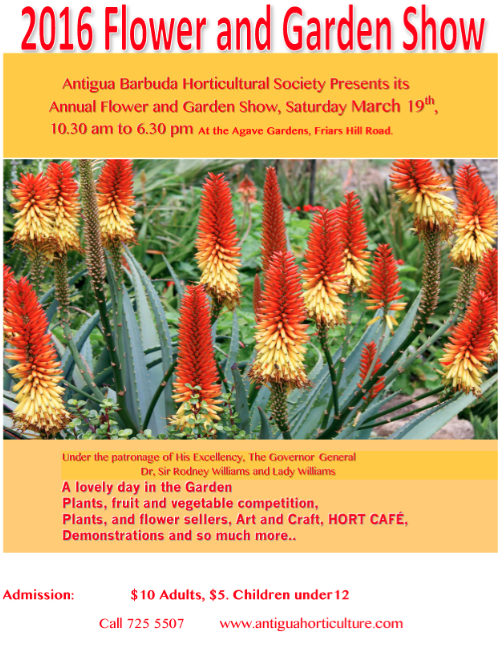 Flower, Fruit and plant competition
Our Market Place
Garden displays
Hort Cafe
Hort garden shop
Demonstrations
Scenes from last years show, don't miss it!
2015 Flower and Plant Competition  This is our "Best in Show"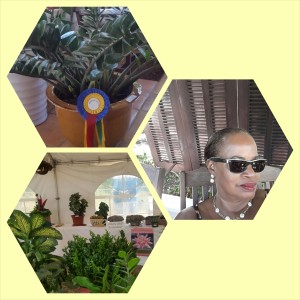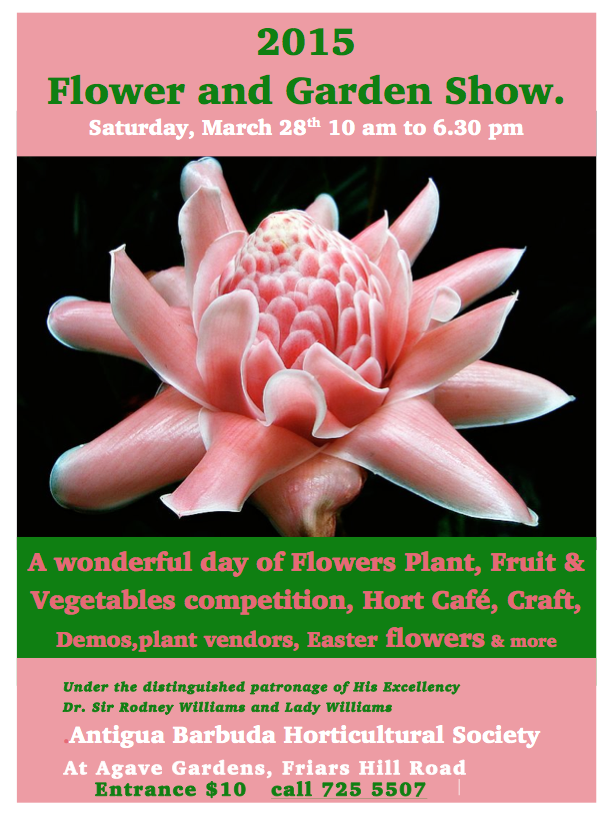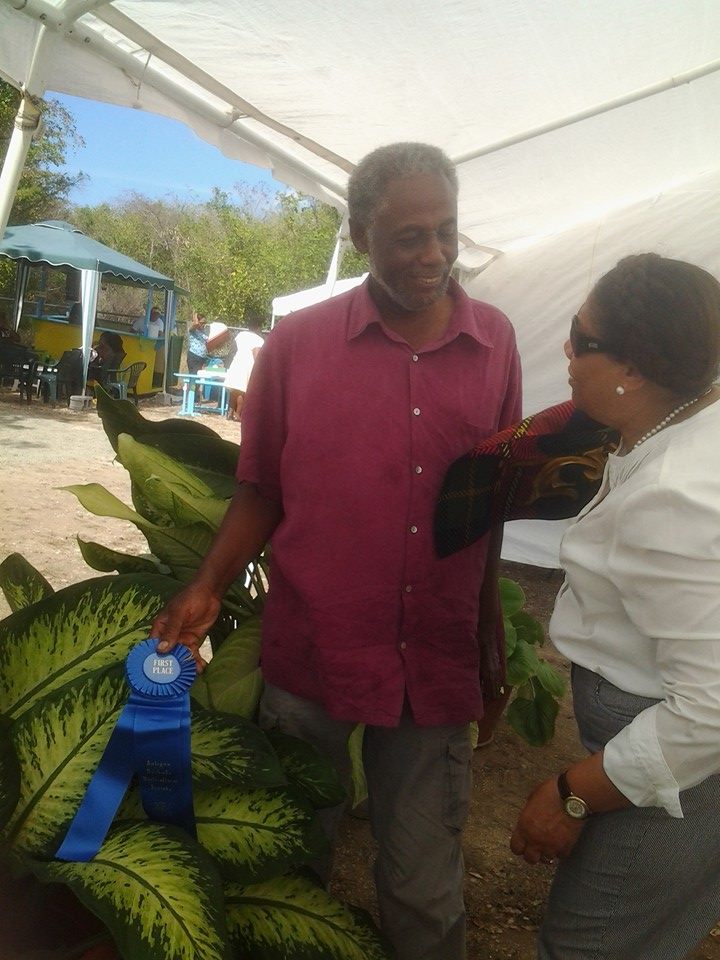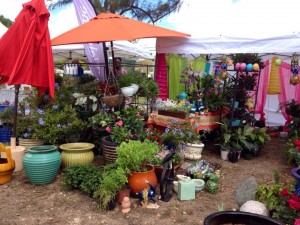 WINNERS BEST IN SHOW  Mr. Clayton Issac and Best Booth
Mrs. Pat Simon-Forde
All the winners
Antigua Barbuda Flower and Garden Show 2014 Winners
Mr. Clayton Isaac- Best In Show
Mrs. Ann Hicks
Mrs. Generis Hodge
Mrs. Delrose Hixon
Mrs. Tina Zaleski
Mrs. Anne Marie Delisle
Mrs. Agnes Meeker
Mrs. Luana Isaac
Ms. Lorraine Davis
Mrs Jackie Feracho Williams
Flower World
Mr. Monty  Lewis
Mrs. Rose Simon
Mr. Fred Salandy and Alicia George
Mrs. Barbara Japal
………………………………………………………………………………………………